Goroppu almost for everyone !
Gorroppu Gorges, is a magic place among the most beautiful ones in Sardinia and has recently become famous for its climbing routes also. The first route has been opened in a traditional style in 1980 by Marco Bernardi; some other followed that one, opened in the same style by Corrado Pibiri. Maurizio Oviglia and Antonello Pala opened 'I sogni di Sara' ("Sara's dreams") in 1995: bolts have been placed in the gorge but at very high distances. Very hard routes followed from that moment on (like Hotel Supramonte, the hardest in Italy) or very exposed routes (like the recent "Occhio Assoluto"- "Absolute Eye")
An accessible route hadn't been opened yet and Lorenzo Nadali, from Bologna realised it: he opened that little route of five pitches in the summer 2000; this one is a little jewel for its difficulty. You will especially remember the enchanting panorama, which can be admired from the Gorges, in addition to the climbing. You will find yourselves hanged over the big Canyon loop which stands not far from the incredible wall of Punta Cocuttos, from where the Hotel Supramonte rises.
Well it's an experience which cannot be missed!
A last advice: train yourself well to go beyond the first pitch: there is a good compulsory 6b traverse, which requires concentration. Otherwise the route has very good bolts, at acceptable distances, just a little longer than on the cliff.
Le topo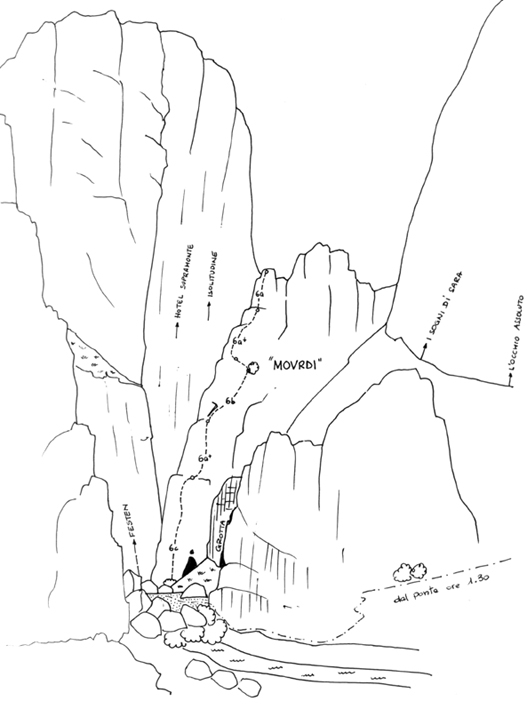 Maurizio Oviglia > article from the web site Sardinia Climb.com traduced from italian by Maurizio Oviglia
© 2000-2001, U-Climb.com, | reproduction interdite | Mentions légales| contact Webmaster